The Utica Railfan Site has moved to Rochester!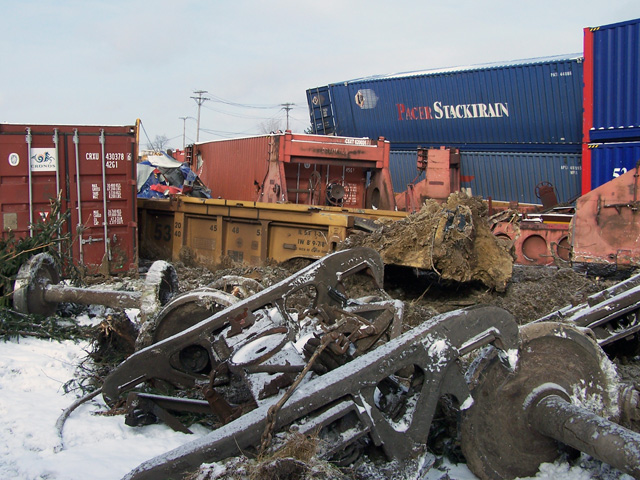 CSX's Q167 derailed in East Rochester, NY on Tuesday, January 16.

View Photos
View WROC TV Story and Video

Photo by Mike Roqué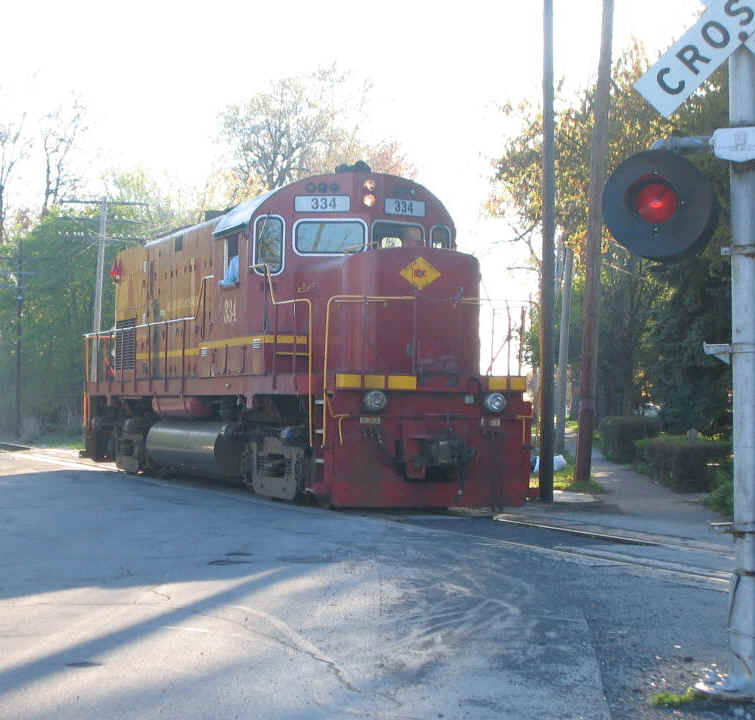 D-L 334 making it's way through Lockport, NY. May 2005 - Bill Cameron photo.

NEW!! ROCHESTER AREA RAILROADING IN THE 70's PICTORIAL FEATURE
Hojack Line
Various (PRR, NYMT, etc)
---
Your webmaster takes the controls of a former US Navy 44-tonner in Florida!

This website serves railfans of the Greater Rochester, Finger Lakes and Western New York areas. These pages emphasize the operation of area shortline and mainline railroads. Here you will find maps, customers, locomotive rosters, area railroad attractions, trainspotting guide and other items of interest to the local railfan.
The Picture Archive is online and growing!
This page is optimized for viewer with a resolution of 800x600 or better (1024x768 offers the best results).
Please let me know if there are any errors, missing images or broken links.
UPDATED: 05/09/05
---
---
RailServe: The Internet Railroad Directory
Thousands of rail-related links, search engine, forums, railfan chat rooms, and more.
---
---
BE A GOOD RAILFAN!
After the September 11, 2001 terrorist attacks on the World Trade Center and the Pentagon, security in and around railroad property has stepped up significantly. Crews, employees, security and police are taking a more serious look at people near railroad property. Tolerable acts of trespassing are no longer being tolerated and even those on public property are being viewed with an eye of suspicion.

Do not be surprised if some of the courtesies once extended to railfans are no longer granted. Hopefully things will settle down soon and we can once again return to a life a normalcy. In the meantime, cooperate with the railroads and respect their boundaries.

With talk of war in Iraq and indications by those captured in Afghanastan that American rail infrastructure is a target for future terrorist attact, there has been talk amongst the railfan community wanting to be the (un)official eyes and ears of the railroads to report suspicious activity. The railroads are keeping a close eye on things - let the railroaders do their job. If you happen to see something out of the ordinary, leave the area and call the proper authorities from a safe place. DO NOT try to intervene or correct it. Remember, IT'S ONLY A HOBBY!! Think of your families, don't risk your life. Don't try and be a hero. (bonus points for anyone who can tell me what movie that line's from).

Use good common sense and the utmost safety when railfanning. Stay off the right of way, yards, and any other railroad owned property. Trains can come at any place, at any time, and without warning. If you are caught trespassing on railroad property, you wlll be arrested and charged with trespassing. There is legislation in Albany to make trespassing on RR property a felony (now it's just a misdemeanor). Remember, the railroads do not exist for the railfans, but for the purposes of making money and keeping their customers and shareholders happy. Some railroads are railfriend friendly and others aren't.

Keep railfans on good terms with the railroads. Don't ask employees who are working stupid questions. You compromise their safety by distracting them. Save questions for the internet as plenty of RR employees are online to answer your questions. Also, cab rides are prohibited by the FRA in most cases - and are usually reserved for FRA inspectors and company public relations purposes.

Many shortlines are more railfan-friendly and will grant you permission to photograph on their property with written permission and/or an insurance/liability waiver. As for the major RR's (NS, CSX, CP, etc...) permission is generally denied. Please inquire at their offices to obtain access to their property and be prepared to sign a waver. Not all railroads will accomodate this request.

Also be courteous to other railfans and other people you meet trackside. You - yes you - represent the railfan community!
---
This page will always be an evolving work in progress -- corrections or additions are welcome. These pages will focus primarily on the infrastructure, operations, and history of the railroad in Greater Rochester. Originally, there were no plans to detail locomotives, paint schemes, numbering, former owners,or rolling stock history into these pages at this time since there are dozens, if not hundreds of well designed pages on the internet for that sort of thing. However demand, as well as renewed personal interest has allowed me to start introducing these features into the page. But, I primarily want to focus on why the railroad exists, where it goes, and what happened to it - in addition to the operational and engineering aspects of railroading. Enjoy these pages and thanks for visiting. -- Les Wilson
---
E-mail Les Wilson (your webmaster) by clicking here!
Copyright 2002 - All rights reserved - material contained within this website may not be used without permission.